Occasionally, I take a peek into the murky waters that is mobile gaming because among all the crap you occasionally find some good things. There's a lot of derivative stuff, which can make it difficult to determine which games are worth spending your time and/or money on, and some of them do a better job of iterating on existing formulae than others.
Two games in particular spring to mind as having been casually keeping my attention lately; neither are fantastic games, but they're good for a few minutes on the toilet or in bed or waiting for the kettle to boil or something.
I Love Pasta
I downloaded this for two reasons: the endearing name, and the cute artwork. Turns out it's actually quite a nifty little restaurant management game that initially looks like a Zynga-esque "tap and wait" game, but which actually opens up and has an intriguing amount of depth the more time you spend with it.
The game opens with your father buggering off and leaving you with a pasta restaurant to take care of, and little in the way of training. Fortunately, a local chef comes to your aid and starts giving you some advice, and from here it's up to you to make your own pasta, develop a range of dishes to serve on the menu, keep your customers happy, make as much money as possible and ultimately help build up the area of town around your shop.
As I said, the basic gameplay is rather Farmville-esque — you tap on a pasta machine or cooker, choose something for it to produce, then wait, either for the machine to make the pasta or the food on the cooker to sell out. Then you repeat. This is the basic activity you'll be doing all the time, because it earns you money and experience points. From here, though, things get a little more interesting.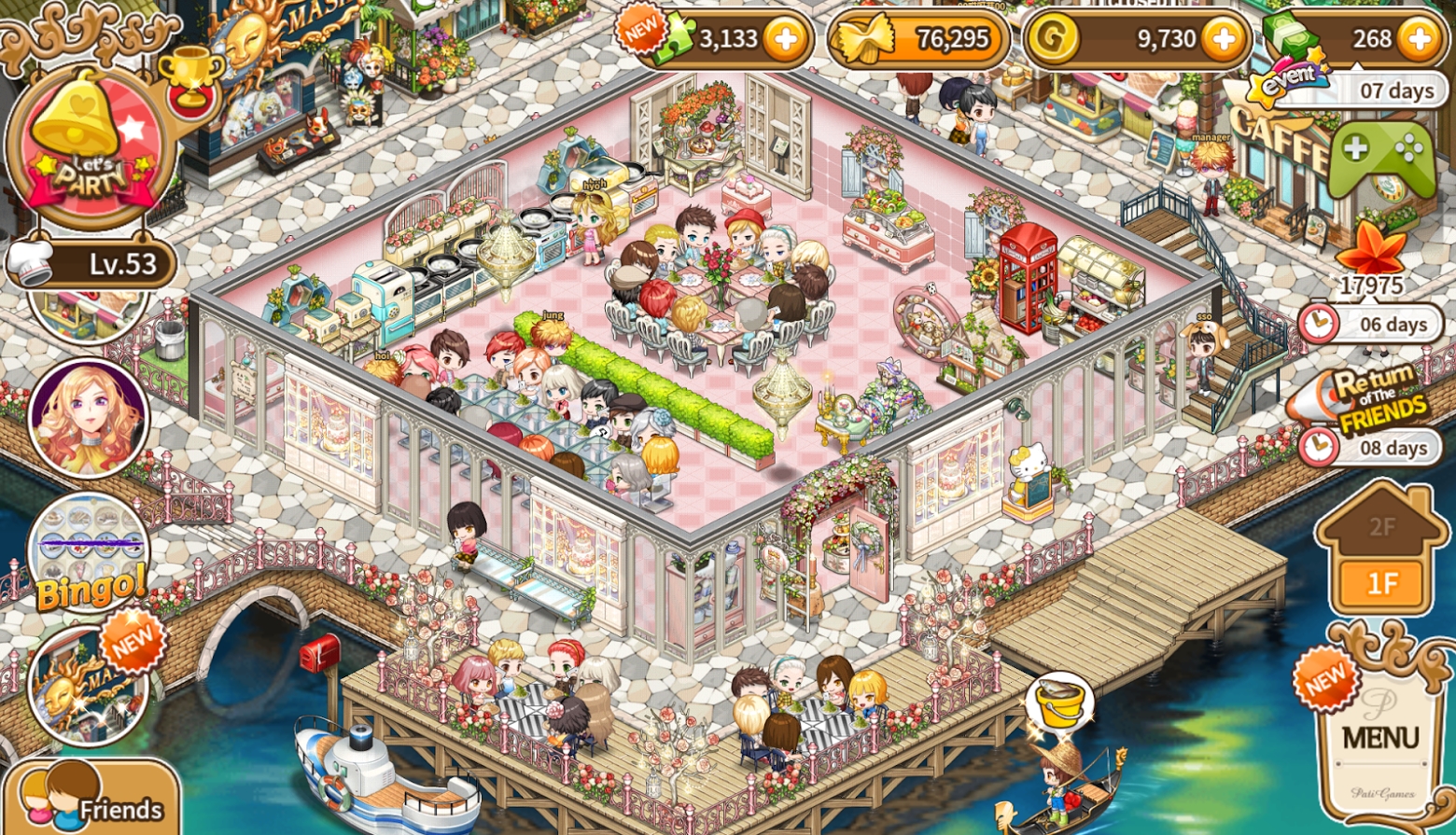 Rather than always serving the best meal you possibly can, for example, you might want to consider mixing things around a bit. Dishes each have their own experience level that rises as you make them more times, and levelling up a dish not only improves its quality, it allows you to add items to its "set menu", which confer various bonuses when the dish is sold. Some dishes also have prerequisite experience levels in other dishes before you can learn them, too.
Learning a new dish sees you playing two minigames: firstly, a game of Concentration with the main ingredients, followed by an inexplicable but fun rhythm game in which you fend off ingredients being hurled at you with a frying pan in time to some delightfully upbeat music. After this, you're able to sell the dish whenever you have cooker space available, though you'll also need to manage your inventory of ingredients, as you can't make a bolognese without tomatoes, for example.
Other activities include sending your employees into town to shop — they can do this a certain number of times according to their HP value and become exhausted after a while, but while they have the energy they'll bring you stuff back from the market for free. Alternatively, you can order specific items, but these take varying amounts of real time and money to arrive at your restaurant.
There's also an obligatory gacha component to the game, though it's not immediately obvious: each of your employees have various equippable items which contribute to their HP, cooking and attractiveness stats, each of which allow them to perform more efficiently for you. As with most games of this type, you can fuse items together to increase their effectiveness, and draw new ones using in-game currency, the "friendship currency" of puzzle pieces or the hard currency that you buy with real money — naturally, the best items are more likely to appear if you spend real money, though I've still nabbed an A-rank top from a puzzle draw.
The game dribbles out new mechanics at a nice rate as you level up; initially it's very simple, but later you'll be catering to specific characters to raise their affection levels, building up a separate Market Town area, hiring people to staff the shops in the square around your pasta restaurant, and serving food to people on the street according to clues they give you. It's a fun little game with adorable artwork and a surprising amount of depth; it's no true simulation, of course, but as something to while away a few minutes with it's worth a look.
Mabinogi Duel
I was introduced to this game by someone over on the new Niche Gamer Forums, who said it was a genuinely good game. And it is! It's a card game, but unlike most mobile card games, it's an actual card game rather than a collectathon. It most closely resembles Blizzard's Hearthstone in execution, but it has plenty of unique mechanics of its own that distinguish it — plus, for what it's worth, I much prefer the art style to that seen in Hearthstone, but that might just be me.
The basic gameplay involves using collected mana points of various elements to summon creatures and cast spells. So far so Magic, and indeed the game wears its inspiration on its sleeve. It works well, though, with nicely streamlined game systems and one or two things that would be difficult to implement with physical cards. While in a fight, you can "level up" up to twice, for example, with a higher level making all your cards more effective and allowing you to take multiple actions per turn.
The game features a fun tutorial with an overwrought but surprisingly humorous tale about a half-elf suffering racism and wanting to turn himself fully human. His journey provides a convenient excuse for you to be presented with an array of different opponents who provide a good means of teaching you various different mechanics. By the time you've cleared the scenario, you'll be ready to play more freeform games, and that's where what looks to be an interesting metagame comes into play.
Unlike many games of this type, you can actually trade cards with other people in this one, as well as purchasing booster packs to bolster your virtual ranks. You can also use "rental decks" until you collect enough cards of your own to be competitive, and there are various Mission and Arena modes that allow you to participate with various restrictions and special conditions in place, for those who enjoy that sort of thing.
For a game I'd never heard of before the other day, Mabinogi Duel is one of the most impressive mobile games I've seen for a long time, and I'm looking forward to learning a bit more about its meta. If you're a fan of Magic-style card battling, it's well worth a go.